I'd like to introduce you to one of our amazing Featured Bloggers at
Koly and Kelly's K9Kamp
(To meet another Featured Blogger, check out
Kol's Notes
too!) And, keep reading to the end to find this week's contest for Juniper
Fetching sticks
from Molly's Products. Good luck!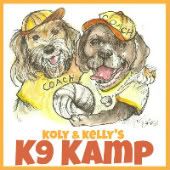 I Still Want More Puppies
Your name:  A.J.
Age: (or undisclosed!) 31
Occupation: Attorney
Favorite activity:  Healthy: Bikram Yoga; Less Healthy: Wine festivals

perfect combo of healthy and less healthy! I like it!


Favorite food:  Grilled cheese

Your dog's name:  Bella
Breed:  Mutt (most likely Beagle/JRT mix)

another great combo!


Age: approximately 10
Favorite activity:  Sleeping
Favorite food:  Frozen french fries (she's always hoping one will fall)

2. So, what is I Still Want More Puppies all about?